"I wanted to say thank you again: this is the first time I've participated in Jugend hackt; before this, I was never involved in programming. It's just great that I was able to take part," says Ferdin (15) on the stage of Jugend hackt in Berlin in October 2021.
He has just presented to the audience the project that he has developed over the past day and a half together with Furkan (18).
Technical aids to combat the shortage of nursing staff
The idea behind "Signal Pattern": Sensors on the body measure muscle impulses and detect when there is an emergency. In the prototype, which is lying on the table in front of the two adolescents, there are still simple switches that have to be pressed. If the project were developed further, it could result in a sleeve with electrodes that could replace the emergency button for senior citizens. Such technical aids are becoming increasingly important in view of the growing shortage of nursing staff, Ferdin and Furkan had explained at the beginning.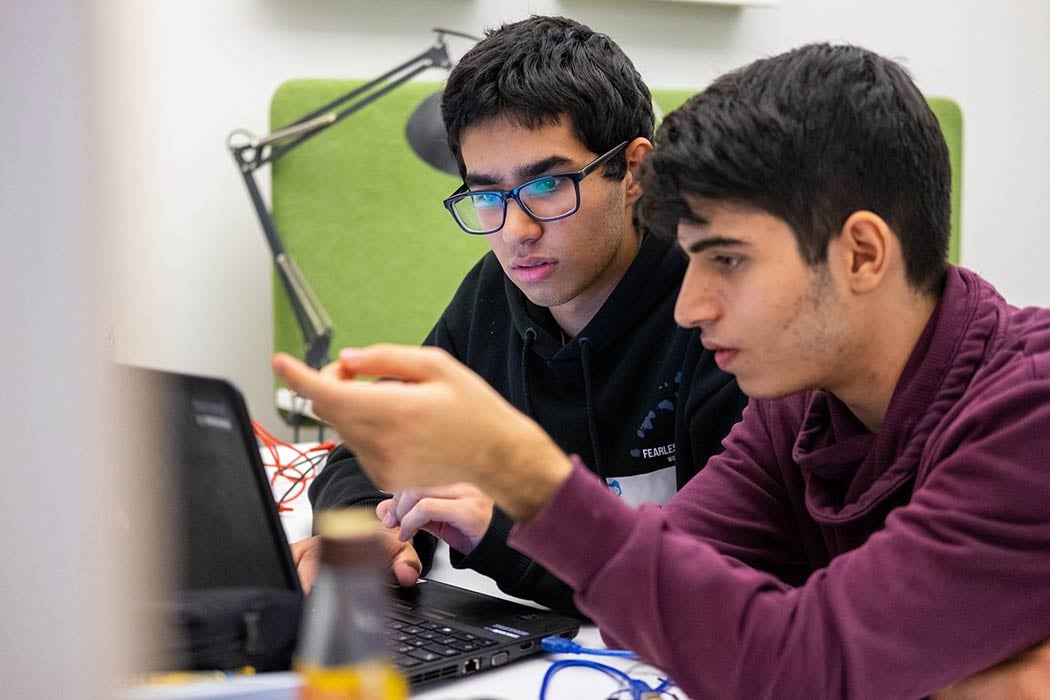 Ferdin (black shirt) with Furkan (purple shirt) developing the project. Photo credit: CC BY 4.0 Leonard Wolf/Jugend hackt
Watching the presentation, you'd think you are looking at two trusting school friends. Yet the two teenagers have only known each other for less than 48 hours. Furkan didn't have far to go to the event; he attends high school in Berlin. Ferdin, on the other hand, in Minden, East Westphalia. He did not travel alone - rather, he traveled in a group of seven adolescents. They are accompanied by Jörg Kaske.

Software development in voluntary refugee assistance
"I'm like the uncle to the youngsters," Kaske says, laughing. The mathematician works in software development in North Rhine-Westphalia and has been involved in the "Zukunftswerkstatt Hafenschule" in Minden for over six years. In the former school building between the train station and the Weser River, numerous refugees found their first shelter in Germany starting in 2015. Jörg Kaske and many other local volunteers helped them to arrive: Official channels, German courses, apartment hunting, education.

Kaske was looking for ways to bring his area of expertise into voluntary refugee aid: "I'm convinced that we need to get the youth much more interested in technology so that the opportunities in digitization can also be used for everyone." In 2018, while searching for a format for young people that was about IT and education and that was as free and unbureaucratic as possible to participate in, he came across Jugend hackt: "It was a good fit because Jugend hackt is very open to participation by young people from different cultures."

In the fall of 2019, he went to Berlin for the first time with a group from the Hafenschule to the big Jugend hackt event and was able to witness how "his" adolescents became part of the 110 participants* and, after brainstorming, distributed themselves among various projects. Among other things, they programmed in the nature art project "Remixing the Garden" or helped build the "Wi-Fi Bike", a rental bike that provides open Internet access.

Big City Vibes: From Minden to the capital city
Almost exactly two years later, things continue seamlessly in Berlin, as if the Corona year 2020 had never existed without an event. The Jugend hackt team was delighted when an e-mail from Jörg Kaske arrived in the run-up to the event: He asked if he could participate again with a group from the Hafenschule

For him, the trip to Jugend hackt in Berlin is deliberately a weekend in a different environment: "The format would certainly be different here in the tranquil provinces. The Code of Conduct of Jugend hackt alone would not be understood by many people right away, and there is a risk that it would not be taken seriously. For the adolescents, however, it is very important that they can act with this peace of mind," says Kaske.

The participants from Minden also see it that way: Five of the adolescents who were already there in 2019 deliberately came back to Jugend hackt in October 2021, plus two new ones: Feriba and her brother Ferdin. They all take home different inspirations from Jugend hackt: insights into programming languages, new acquaintances and a special atmosphere. The Jugend hackt team is looking forward to seeing you again.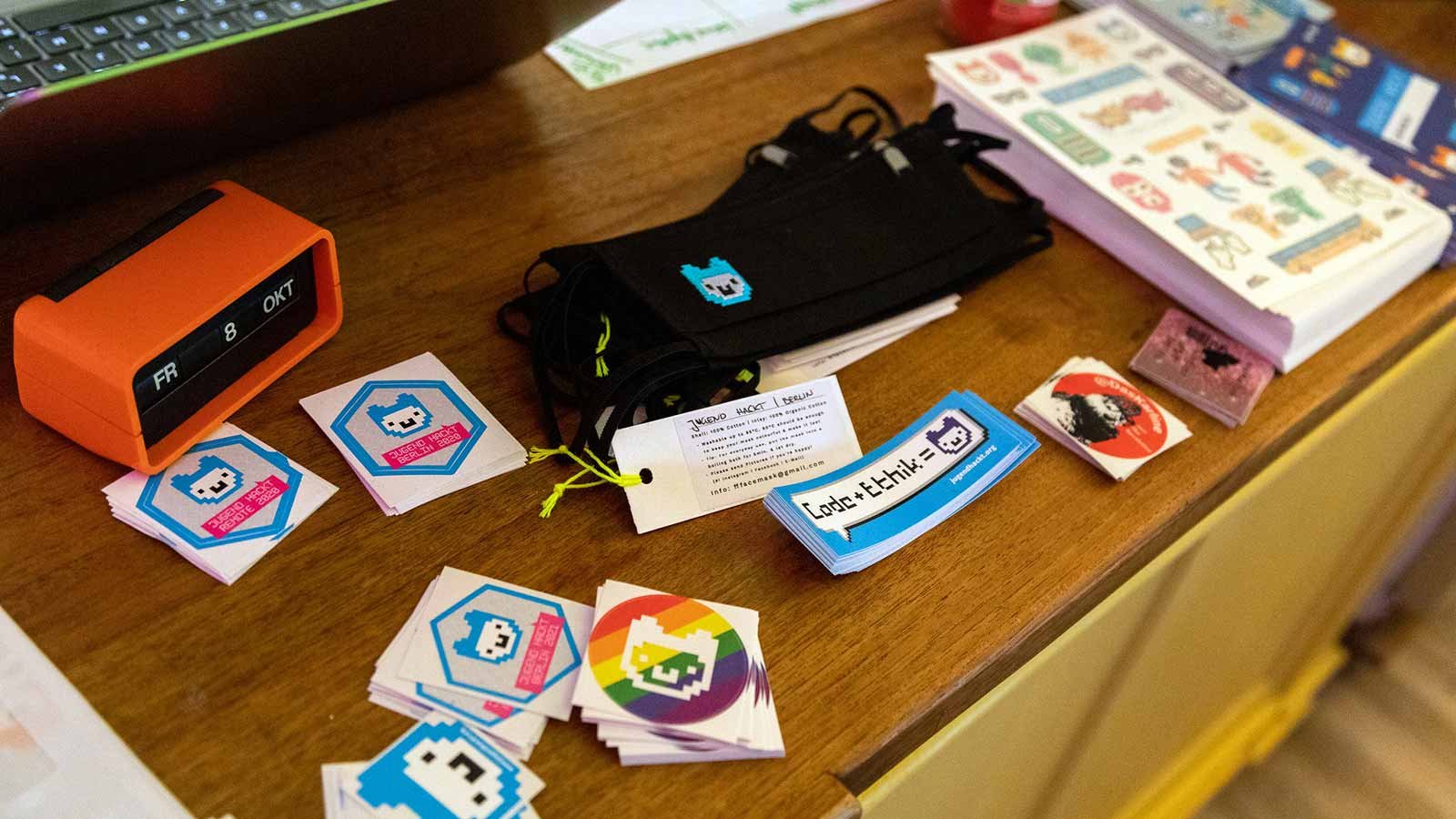 The projects
Ten great projects were created at the event - all based on the young people's ideas. You can watch the project presentations again on YouTube.
That´s it
After such a long break, finally there's another event where a lot of people can come together again. This gives us hope for 2022 and we're happy that we could support you as a sponsor for this great event!