The 2019 season of Jugend hackt began on May 24-26. Fifty participants and 24 volunteer IT mentors met in downtown Cologne to get busy coding under the slogan "IMPROVING THE EN:VIRONMENT WITH CODE." Climate protection is attracting attention with #fridaysforfuture already. Jugend hackt is joining in and wants to give young people space to address important topics related to the climate crisis and to find solutions through technical and innovative approaches.
More than "just" programming
The focus of the hackathon weekend is on implementing project ideas, of course. But there is an additional framework program, too, as another tool for the youth. Thus, metrologist Claudia Frick illustrated climate change in her keynote "From Climate to Change" by way of numerous facts. And, from time to time, recreational interludes were a welcome diversification, for example, a game resembling the popular old TV show "1, 2 oder 3," with questions about hacker ethics. After each question, there was a discussion of the answers.
Jugend hackt tries always to lead the way when it comes to environmental friendliness. This time, too, a lot was done to make sure that not only the topic was sustainable, but the whole event. The food? Vegetarian and vegan only. The drinks? Tap water with natural flavors from glass beverage dispensers and only a small number of reusable bottles. Of course, this also included saving paper and using reusable print materials, such as reusable room decoration.
The projects
This time, too, the projects of the young hackers were very creative and inventive. For example, in "ProjectV," the team wanted to criticize and reveal, in a satirical manner, the possibilities of monitoring and its use. The prototype built for this purpose was equipped with many sensors that could collect and process as much information about the surroundings as possible. The project participants disassembled the prototype in the end and deleted the code due to hacker ethics. Another team developed the "Open Button": As an open-source equivalent of the Amazon Dash Button, it can be used to transmit easy commands via Bluetooth to different interfaces and execute them.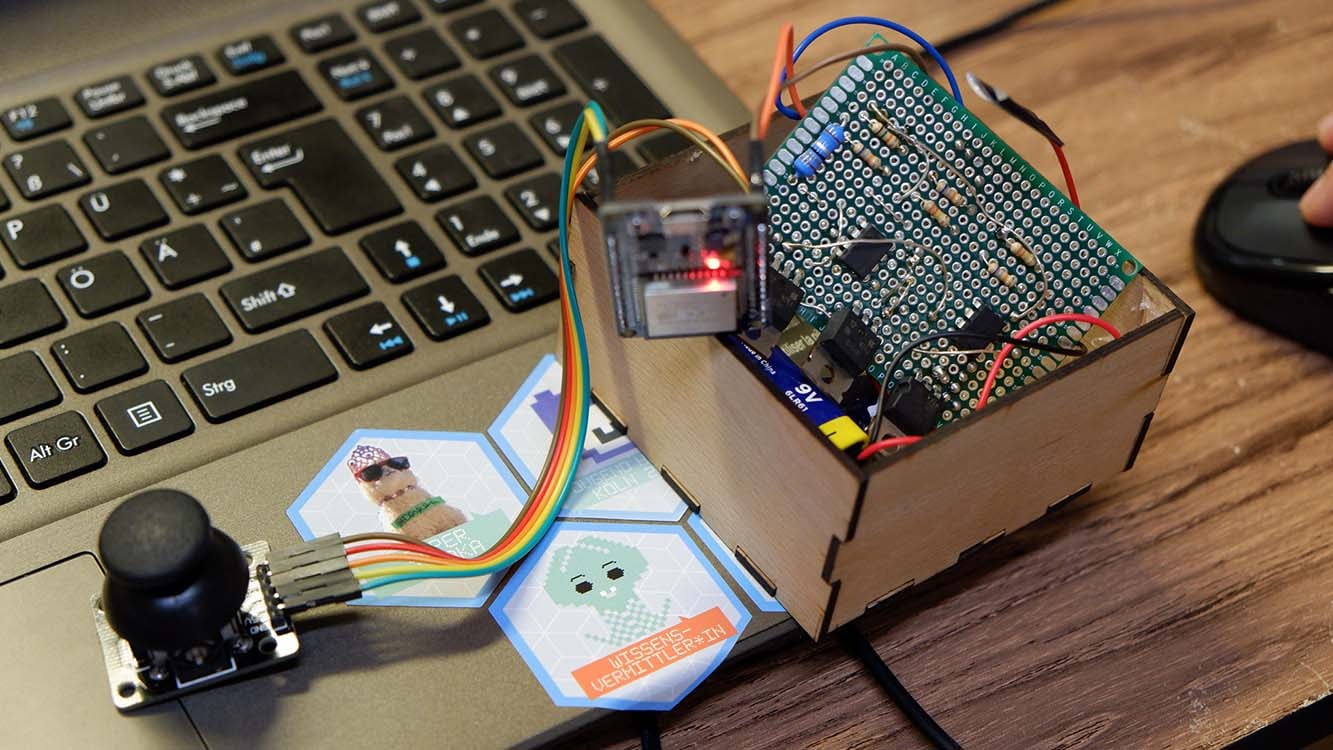 CC by 4.0 Jugend hackt, Photo: Sebastian Schröder

In the APTR (Accessible Public Transport Routing) project, the participants wanted to make train travel easier for people with a lot of luggage or limited mobility. Using APTR, travelers could find Deutschen Bahn routes with working elevators. There were also various projects that promoted the sustainable buying of food and clothing, as well as an app showing an overview of all bicycles of all bicycle-sharing companies.
In a total of 13 projects, young hackers were able to develop their ideas and improve and test their programming skills. As one can see from the results, it was a real success. The passion of all the participants and the results show us, once more, how valuable Jugend hackt is; as a supporter, we are proud to be part of it.
The final presentation: