From standard software for insurance companies to AI for fraud detection and strategies for data migration: We present the articles that have attracted most clicks this year.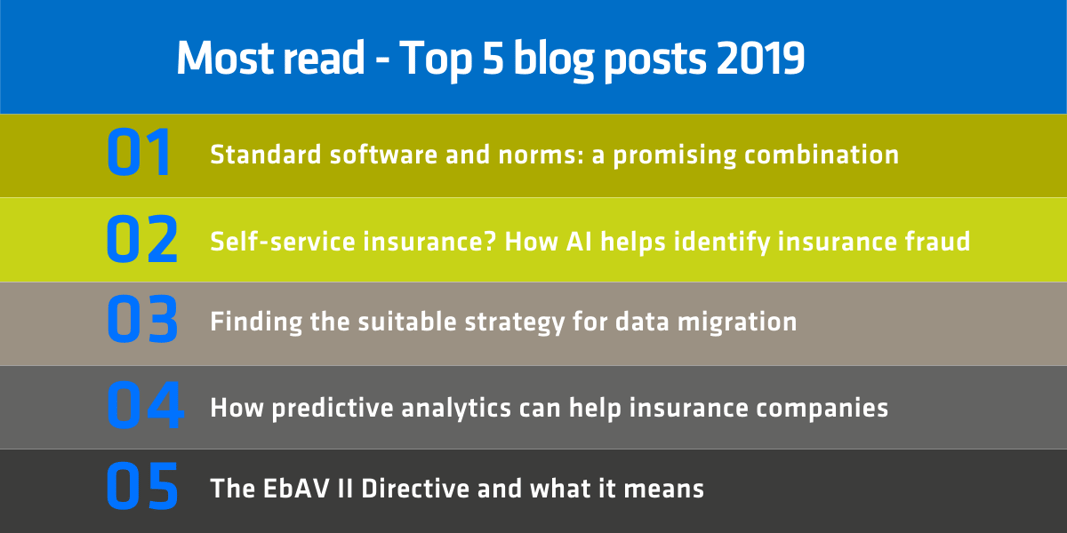 Standard software and guidelines: a promising combination
As part of the digitization process, insurers are making increasing use of standard software for policy management – often opting for cloud solutions. The benefits: flexibility, the ability to develop new products more quickly, streamlined, product-oriented digital processes and strict control over IT costs. Our guest author Matthias Brauch (BiPRO e. V., Industry Research Institute for Process Optimization) provided more information on this topic in the following article.


Self-service insurance? How AI helps detect insurance fraud
Arson, intentional crashes or expensive phantom products: according to the German Insurance Association (GDV), insurance fraud costs five billion Euros every year. No area is safe from this criminal activity, motivated by potential financial gains. It is hardly surprising that insurers are planning more rigorous strategies to tackle insurance fraud and other scams. Our experts Karsten Schmitt and Marco Peisker show how AI can be used successfully to detect fraud. Read article


Finding the suitable strategy for data migration
There are many reasons why a company might find itself facing the challenge of migrating data. Probably the most common reason is the replacement of an older system. What is the best strategy? What options are there? And which one is right for each specific company and each specific migration project? Our expert Michael Schuboth outlines the possible strategies and discusses the pros and cons of each option. Here's the link to the blog article.


How predictive analytics can help insurance companies
An everyday task in the insurance sector is making predictions based on structured historical data, such as to develop buildings insurance against floodwater damage. However, these kinds of clues don't exist for cyber risks. This is hardly surprising as this particular threat scenario is evolving in real time. "Predictive analytics" technology helps insurance companies make forecasts about the future and develop customized insurance products. Click here for the full blog post.


The EbAV II Directive and what it means
The IORP II directive (known as EbAV II) was adopted into German law on 13/01/2019 and has been applicable since that date. This blog post from our expert Alexander Weiß explains what the new guidelines involve and what you should be looking out for in each different area. The new guidelines will affect business organization, cross-border activities by an IORP and reporting requirements. You will find more details in the following article.

We are signing off this year with our Top 5 most popular blog articles, and we are already looking forward to publishing more exciting articles on the topic of digital transformation in the insurance sector. . We wish all our readers a relaxing break and all the best for the new year!