When you think of interesting towns in the Netherlands, Utrecht is certainly not the first place that comes to mind. I'm currently working with our client Rabobank there on an international project involving people from Hong Kong, Ireland, the Netherlands, and Germany. So for a few days a month, Utrecht is my "home away from home".
Utrecht is just 40 km from Amsterdam. It's a true college town, with over 30,000 university students and a population of just under 320,000. But Utrecht doesn't just have lots of students – it also has an incredible number of bicycles. Over 60% of trips on Utrecht's streets are made by bicycle. Contrast that with Münster, the "bicycle capital of Germany", where that figure is just 38%. And since August 2017, the city center has been home to the largest bicycle parking garage in the world, accommodating up to 12,500 bikes.
Like a smaller Amsterdam, but nicer
Compared to Amsterdam, which is positively overrun with tourists, Utrecht doesn't get a whole lot of visitors – but there's no reason why it shouldn't. It's a lively, authentic city, with tons of restaurants, cool bars, cafés, and shops that offer lots of opportunities to relax and unwind after a busy day. Utrecht's canals are yet another feature the city's got going for it. Not only are they gorgeous – they're also right at the heart of life in the city, especially during the summer. The most famous one is probably the Oudegracht, which runs around Utrecht's old town. The numerous bars and restaurants that line its banks are packed in the evenings, so you'd better make a reservation ahead of time if you want to get yourself a spot.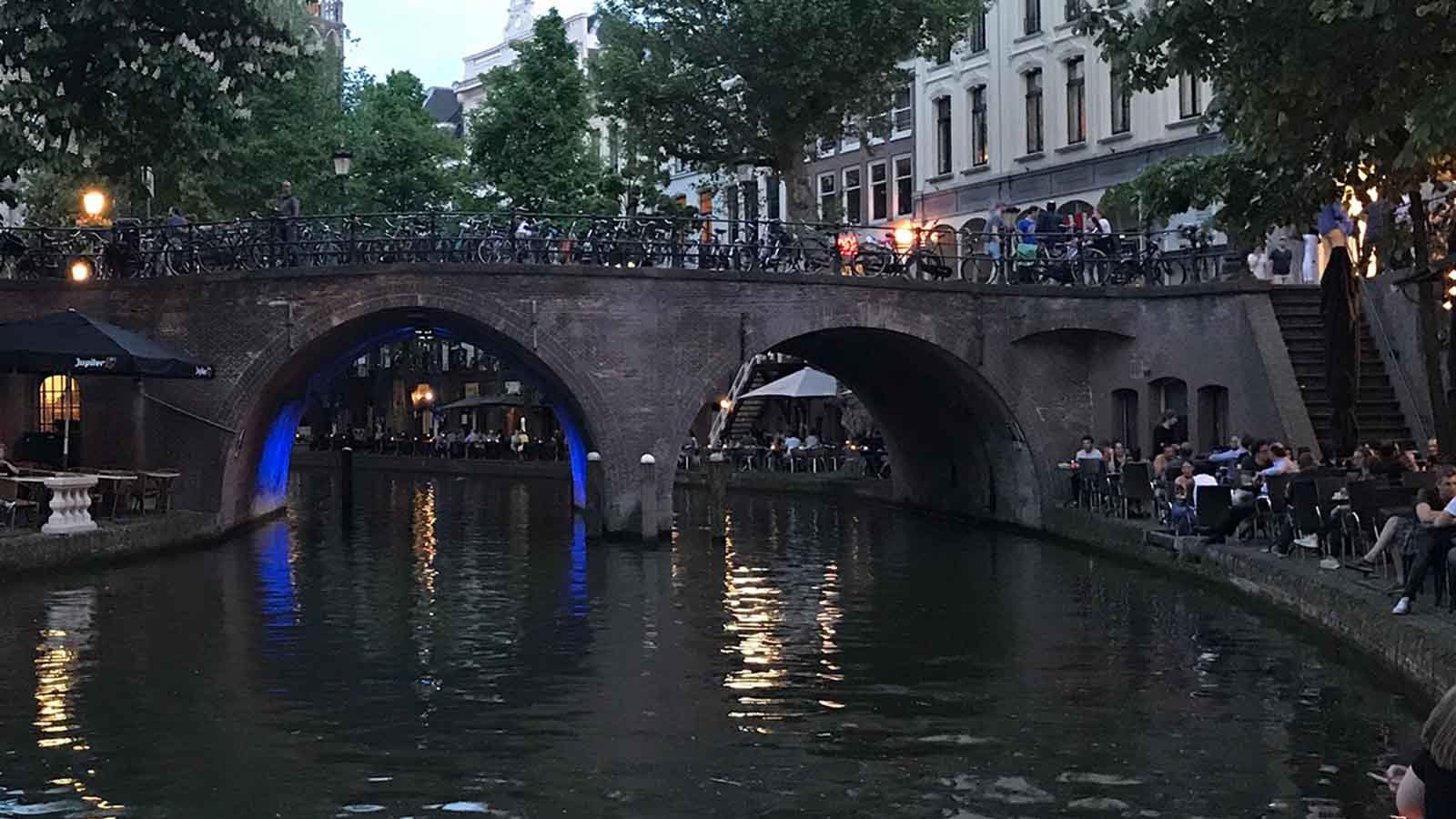 So where do I like to spend my evenings off? Here are my favorite places to get a delicious meal and a good drink:
Beers and Barrels - We love going to Beers and Barrels after a long day working on the project. The food there is great, and they've got nice selection of local brews as well as Belgian beers. Steak, fish, burgers, tacos – whatever it is, they've got just what you're looking for. The restaurant is located right on the canal, in one of Utrecht's traditional vaulted storehouses. Definitely make a reservation – it's a very popular spot, and it's often full.

Surya - We've also got some folks from India on our project team, so of course they've helped us find the best Indian restaurant in town. Here, too, you should make a reservation if you want to avoid a long wait. My favorite is the butter chicken with naan bread – so good!

Olivier - This Belgian café is very centrally located near the canal, and is housed inside an old church. The location itself is well worth a look, but they've also got a large selection of Dutch and Belgian beers, and I've also heard from coworkers that the mussels there are supposed to be really good.
And for dessert, or just for a snack, I recommend the pink ice cream cart on the Oudegracht. Really good ice cream, especially the chocolate and cheesecake flavors.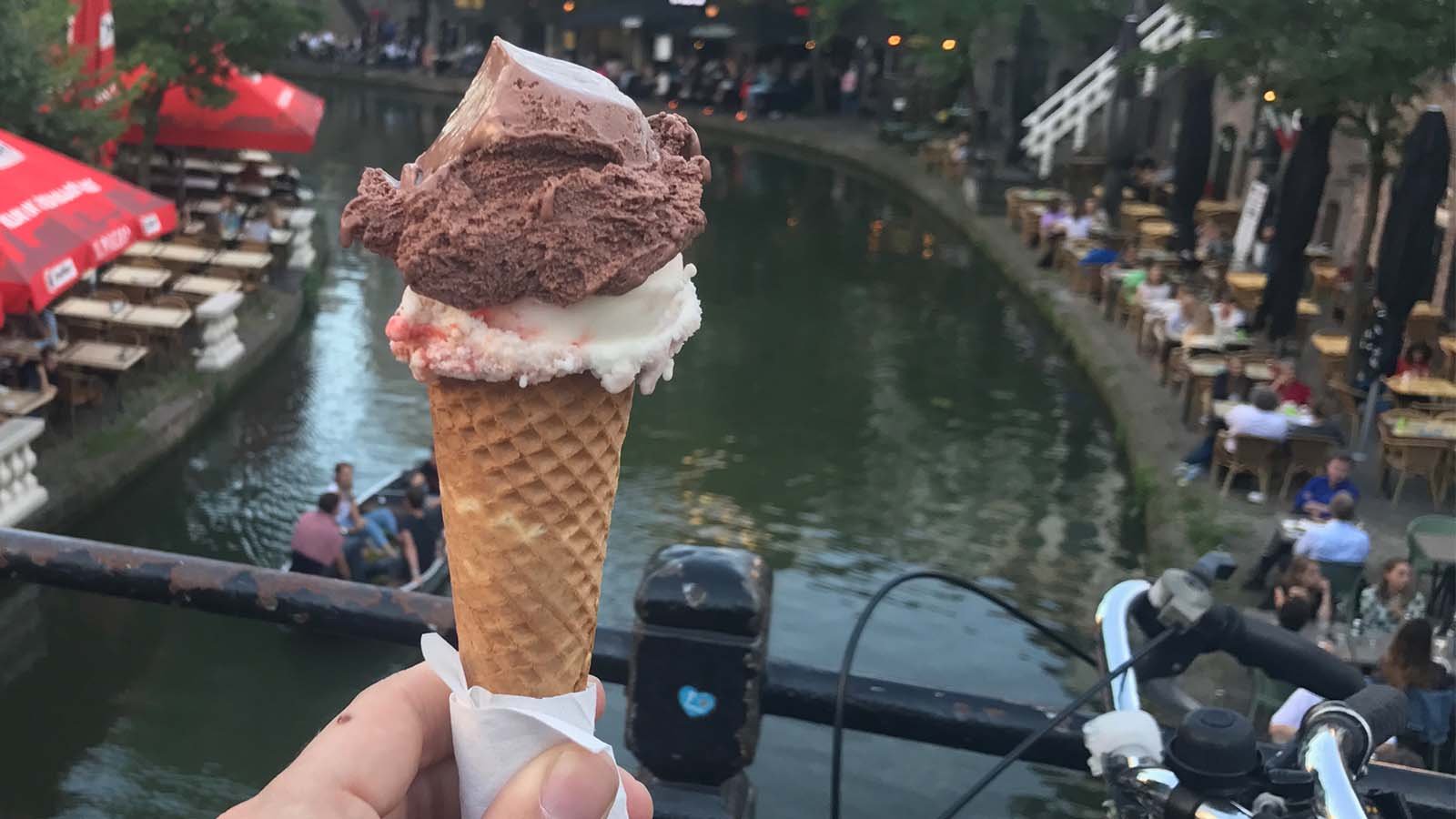 While Utrecht's culinary scene has a lot to offer, the city also has its fair share of cultural highlights. There are several museums worth visiting, including the Centraal Museum Utrecht, the main local museum, and the Nationalmuseum Van Speelklok tot Pierement, which features an extensive collection of musical clocks and barrel organs.
And then there's the Miffy Museum. This little rabbit from the children's books by Dick Bruna is especially popular in the Netherlands and Japan. Utrecht is the proud birthplace of Miffy, and on her 60th birthday they even honored the character with her own museum.
So as you can see, there's a lot to see in do in Utrecht that can keep one from getting too homesick while working a project here.