Working as an IT consultant does not always require a degree from the computer science or economics sector. Most important are analytical-logical thinking, the willingness to constantly learn new topics and both the fun as well as communicative skills when dealing with customers. We asked our colleague Cornelia Spreitzer how she ended up being in IT consulting in a software company as a mathematician and actuary.
Hello Cornelia! You have been a part of the team for our in|sure PSLife software as a senior IT consultant since January 2018. How did you make the switch from mathematics to IT and IT consulting? And why did you decide for adesso insurance solutions?
The step from mathematics to computer science does not necessarily have to be a big one. Particularly in modern computer science, we often use mathematical constructs and techniques that come from mathematics (for example, neuronal networks). And in general, a programming language is mostly based on a field of mathematics: logic.
Nevertheless, when I began working in actuarial services for an insurance company, I never expected to sometime end up at a "software place". But it turns out I was wrong! After changing to consultation and after diverse projects with German insurance companies, I was suddenly an external employee at adesso insurance solutions. I was warmly welcomed by the project team back when I started and I never had the feeling of being just an external employee. After some time it was clear to me: I will change sides and get rid of the adjective "external". The joy of doing the work, the very friendly atmosphere, the exciting tasks that make sure you are never bored, flat hierarchies, the feeling of being able to promote and design the development of a product; all of these were and are good reasons for me to decide for adesso insurance solutions.
What exactly are your tasks as an actuary or senior consultant?
The range of tasks for an actuary is very diverse. Broadly speaking, actuaries deal with the modeling, evaluation and control of risks and everything connected to this. For us specifically, we actuaries take care of showing the life of an insurance contract in the respective inventory management software and translating the formulas used to calculate required numbers such as premium amounts, services, reserves, balance values or tax values into code. In addition to actuary knowledge, this also requires experience with regulatory and economic circumstances as well as programming knowledge.
adesso insurance solutions develops inventory management systems for different insurance divisions. Correspondingly, actuaries at our company do not just work in my area of life insurance (in|sure PSLife), but rather also with the products for health insurance (in|sure Health Policy) and company pension (in|sure CollPhir).
Can you tell us a little about your average day at work? What project are you currently in charge of and what exactly are your tasks?
I am working on the further enhancement of the calculating engine from in|sure PSLife. I am currently a part of the product development team in Cologne. We are developing the basic product here that can be individually adjusted to our customer's requirements.
As a mathematician, I take care of implementing new functions in the calculating engine from in|sure PSLife. Not only the actuarial tools and basic programming knowledge are needed for this, but rather I have to also be familiar with legal texts, because the software functions always have to correspond to the most current legal provisions. In addition to the development of new functions, I am also responsible for repairing errors in the code or in calculation algorithms.
I am also often directly on site by our customers to support them with diverse activities such as the integration of new functions or to coordinate further enhancements. On the one hand, it is exciting to be so close to the users, but on the other hand, it is also very helpful for our daily work to have the possibility of direct feedback. What is often challenging here is that I have to explain complex information to the customer or project teams in a manner that is simple and understandable for non-mathematicians.
What are the special challenges of your work?
In the beginning, the biggest challenge for me as a mathematician was to find my way in a large software development project and the required processes and programs. But thanks to my colleagues and the documentation provided to us, I was able to quickly grow into my position.
Even though I have been working for some time with in|sure PSLife, I learn something new every day. I often happen across parts of code that I never saw before or there are requirements for functions that are very challenging to implement. In summary, I can say that it is exactly these challenges that make every day at work exciting and attractive.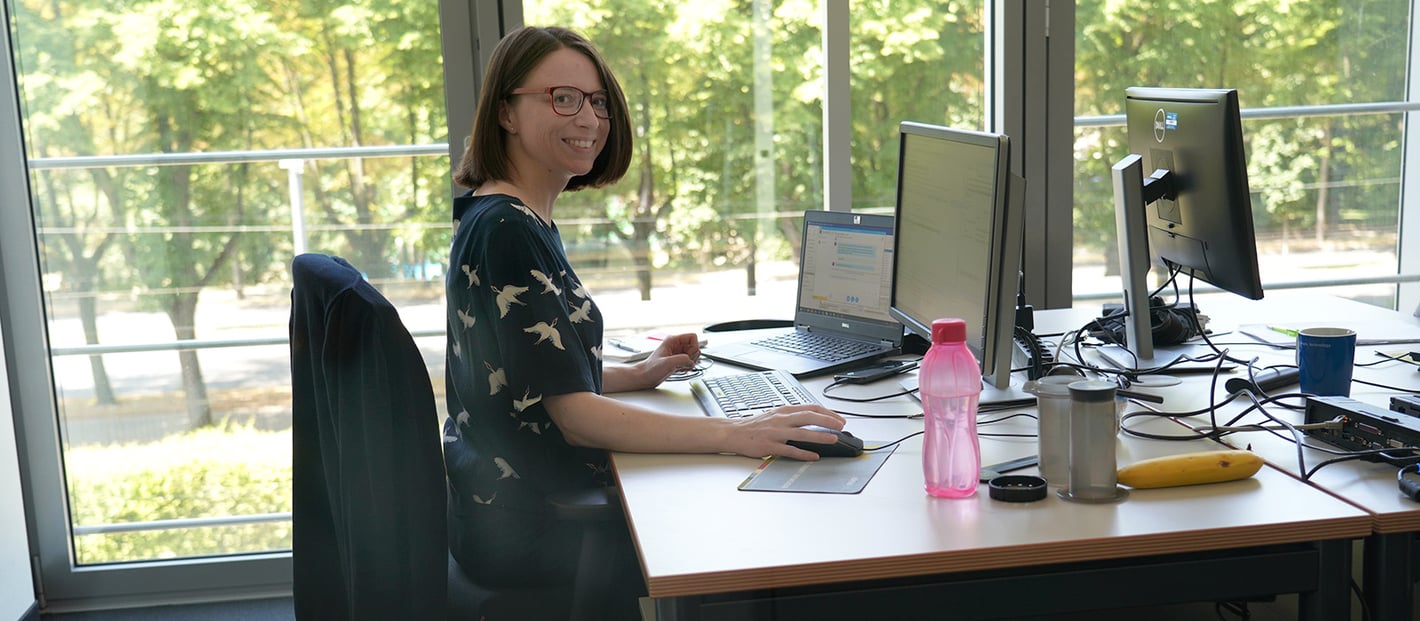 What does a typical day look like for you?
My day at work begins with a so-called "daily". The project team discusses the important results or problems of the past day as well as any upcoming activities daily and in a very brief form. In principle, we work in release cycles. For a release, there is initially a plan regarding what new functions should be implemented or how existing functions should be changed. These requirements for new functions come from our customer projects on the one hand and on the other hand through new or changed legal regulations. In addition to this, diverse smaller improvements and bug fixes are implemented for a new release.
As a mathematician, my tasks include creating a technical concept for the previously specified requirements and implementing these in the calculating engine. The implementation must be tested through corresponding test cases in the calculating engine, whereby I professionally examine the calculated values again. We additionally create documentation for each new function regarding how this should be integrated in the current customer projects.
A typical day for me also includes working hand-in-hand with the project management, software developers and quality assurance and answering diverse questions from customer projects. Sometimes I also have to analyze and repair errors in our software reported by customers. Depending on the severity of the error, we may roll out a new version or I will suggest a temporary solution for the customers from my professional view.
If someone were to visit you at the workplace, what objects would they definitely find on your desk?
Definitely a cup of coffee: I can't do anything without coffee! Plus my accessories to be able to enjoy my usual Viennese espresso in my office: an AeroPress and a can of ground coffee beans.
What do you like most about your job?
The changes and diversity of my tasks, the flat hierarchies in the entire company, the friendly atmosphere and, of course, foosball with my colleagues during our lunch break.
Is there something you would like to change?
Due to my current project, I travel between Vienna, Munich and Cologne. Even though I love airports, airplanes and flying, sometimes I wish I would spend a little less time in an airplane. 😊
Would you recommend adesso insurance solutions to your friends as an employer and if so, why?
Definitely! Due to the same exact reasons that made me switch to adesso insurance solutions myself: the wonderful cooperation with super colleagues.