---
Made it! The contract is in the bag and my new job at adesso insurance solutions can start. As we all know, we are a sum of our experiences: as captain of my own sailboat, I set sail into the open "corporate sea" and discover the new waters on my own. As I quickly find out, that is not the case at adesso insurance solutions ...
The invitation
The introduction of new colleagues is very well organized here. Soon after I sign the contract, I receive the email: "Hello Lynn-Kristin, we would like to invite you to our welcome event for new employees to give you an introduction to our company ..." "Super!", I think. "A majority of my questions will surely be answered there."
Dortmund, here I come
Tuesday, August 1st – full of expectation, I get up and go through my morning routine with a little more joy than usual. The Welcome Days are held at the Dortmund office for all new employees at adesso AG. For somebody like me who will be stationed in Cologne in the future, that is somewhat of a drive. I decided to take my car there to be flexible. The streets are unusually empty, which helps me relax a lot. Nervous anticipation simply turns more and more into just anticipation. I turn on to the Stockholmer Allee well on time at a quarter to eight. My GPS tells me the standard "You have reached your destination." I look around for the familiar "adesso" logo. I am somewhat confused as I stand on the side of the road. "What building is it?" Luckily, a young woman crosses my path and can help me (and it later turns out that she is the receptionist at adesso). I drive behind the company building as instructed and as a resident of Cologne, I am very excited about the company's own parking lot. That means I don't have to look for a spot. I enter the building at around 8:00 AM. The nice woman and my new colleague from a few minutes before welcomes me nicely. She tells me how to get to my other new colleagues who have already arrived. I join this group filled with curiosity. A quick name check, small talk with a fresh cup of coffee and it is quickly clear to me – I feel comfortable here. The first topic of discussion was our arrival. Apparently I made the better choice by driving. People who aren't from Dortmund and used the information from the DB or VRR app are not shown all the possibilities of the Dortmund subway network. That is why most of the people using public transportation decided to walk instead of simply taking the subway, which stops directly next to the office. Note to self: definitely use the website from the Dortmund bus & train system.
Let the games begin ...
It is 8:30 AM and the first Welcome Day officially starts. As new "adessis", we enter the seminar room. Each spot has a name tag. So that means even I will have to do some searching today. I move through the room like a game of ping pong until I finally find my spot in the second row. I sit down and curiously look through my new equipment: business cards, laptop, company cell phone, an adesso pen and a welcome folder with all important information about network access and so on. Then I take a look around. The room is full with sixty individuals. As my eyes wander around, they meet with others and we exchange a quick smile. Two women have taken their position in the front and are patiently waiting for our attention. The volume level slowly lowers and the last participant has found their spot. The two women introduce themselves as colleagues from human resources and clear up all formalities that are important for us to start working. I finally get rid of my social insurance number, my banking information and all other documents that I brought with. This is followed by the usual round of getting to know each other, even if it is in a somewhat different manner. We have to interview each other in groups of two and introduce our partner to the entire team. Some answers to questions like "What annoys you the most?" and "When do you lose track of the time?" caused some good laughs. But with over sixty names, you can't expect to remember them all.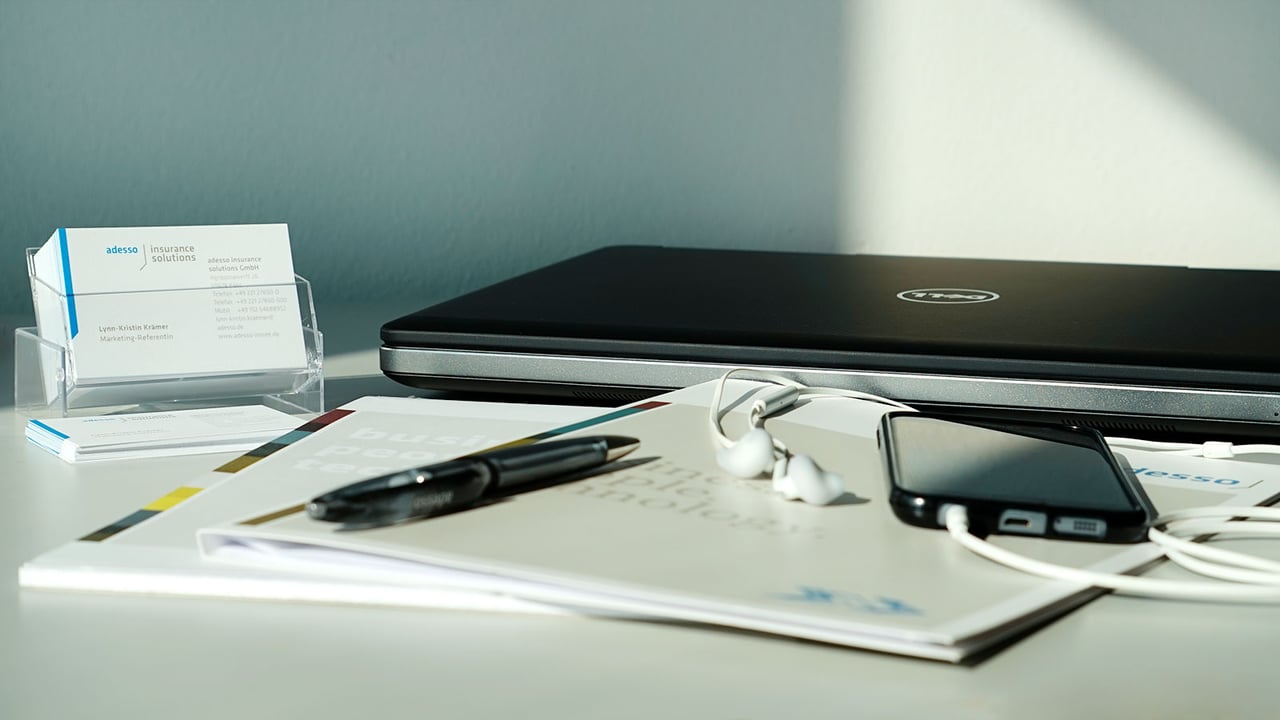 Throughout the day we hear a lot about what adesso is, what they do and what they are made of. A lot of input, but exciting. I think the informal culture is particularly nice, but also unusual. Everyone is on a first name basis ... without exceptions ... even the management and students. As I said, unusual, but it gives me the feeling of belonging to the company from the very beginning. The schedule is full and clearly divided: next it is time for hardware. Everyone tries to log into the network and set up their laptops and smartphones. The IT department helps if something doesn't go smoothly. Luckily I do not have any problems. Then I can first check my mail inbox where I have, believe it or not, 48 emails. "Not bad for the first day," I think to myself. But this comes as no surprise if I chose to set up my account earlier instead of later and I was included in the most important mailing lists beforehand. Everyone who spent enough time with their new devices is sent off to lunch.
adesso always ensures that you have enough to eat. At latest now I can see this. An extensive buffet with all types of cold cuts, fresh fruit as well as two types of warm soup and for dessert: cake. I enjoy the conversations about the backgrounds and private lives of my new colleagues. As soon as I have completed the final conversation, I get in line for the photo shoot. Okay, "shoot" is maybe somewhat exaggerated. They take a photo so that you don't just see a name in the Outlook address book, but rather also the right face. It helped that the welcome mail explicitly told me of this. "Is that OK?" The photographer asks me and shows me the display from the camera. I look at the photo closely and respond somewhat satisfied with "OK!". Good thing he asked me. We all are a little vain aren't we? Now it's time to go back to the seminar room.