What always makes the Jugend hackt team especially happy is when they get to see familiar faces for a second or third time. Of course, the support program for young people interested in coding always wants to reach new young people at every event - which works very well. But if young people are so enthusiastic that they keep wanting to participate over the course of a weekend, then they are more than welcome.
One who has actually been there from the beginning is Malte. In 2013, as a 13-year-old, he attended the very first Jugend hackt hackathon in Berlin and continued to sign up for it in the years that followed: "what always motivated me for the next event was the fact that other young people were always there every year who were just super good at what they were able to do. The fact that someone my age was even able to implement complex ideas motivated me a lot - I wanted to be able to do that, too.
"Finally, normal people"
At Jugend hackt, Malte met people who shared his interests - something that had never happened to him living in rural northern Germany: "I had the feeling: 'finally, normal people!' - this popular slogan sums it up quite well."
Throughout his teenage years, Malte attended Jugend hackt in Berlin, Hamburg and other cities, where he worked with other young people to design exciting projects. One of these was the "Active Germany" app in 2015, which supports intercultural communication between refugees and helpers, or the "Datenparty"app in 2017, which identifies fake news in social media.
Today, Malte is 21 years-old and has long since grow out of being part of Jugend hackt's target group. The August 2019 event in Hamburg was his debut as a mentor. Since then, he himself has been the contact person for a new generation of young people - always on equal footing and with mutual respect, just as he used to experience as a participant.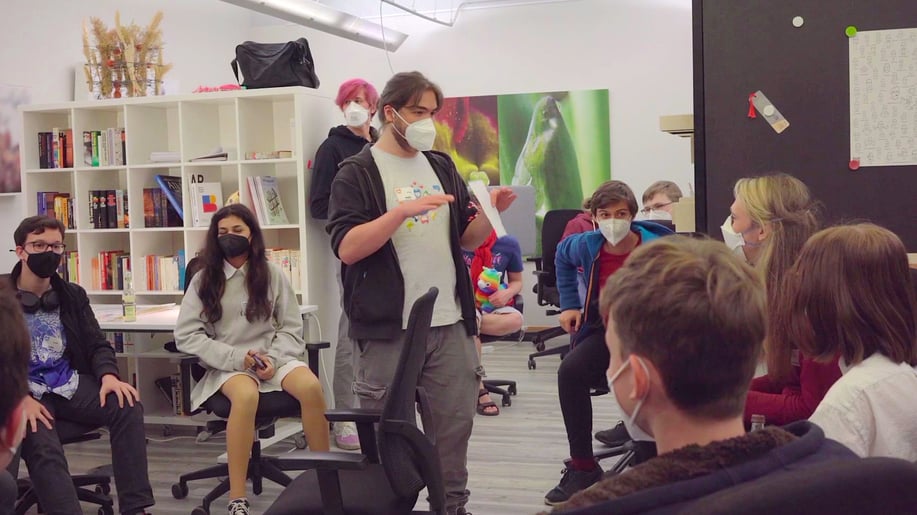 Malte as a mentor at the October 2021 Jugend hackt event in Berlin
Photo: Sandra Trostel
From participant to mentor
Malte started studying computer science in 2020 and has now finished his fourth semester. In retrospect, he probably would have decided on a different education if it hadn't been for his experiences at Jugend hackt - as a teenager with no academic background in his family, it had been many years since had last thought about going to college: "the fact that I'm studying computer science now is pretty much due to Jugend hackt. The program has contributed so much to who I am as a person. In terms of what I want to do and learn, it has taken me much further than anything I did in school. Jugend hackt changed my life, as cliché as that sounds."
As a college student, he has since discovered that the priorities here are different from what he experienced as an adolescent: "in computer science studies, I have to this day never heard the word 'ethics' as it applies to coding. It's really a different world than the one at Jugend hackt. In my opinion, you don't really learn to appreciate what you can do with coding in college, or what creativity you can unleash with it."
Malte's journey at Jugend hackt, from participant to mentor, goes even further: he has since become part of Jugend hackt's organizing team in Hamburg and is currently preparing the event that's scheduled to take place there in the second half of this year. Who knows which young person will be starting their own journey there in a few months.
Jugend hackt is a German program for young people who want to use their technical skills to improve the world. Supported by volunteer mentors, participants develop digital tools, prototypes, and plans for a better future. Jugend hackt's offering includes hackathon events in many cities, regional labs, an online community, and international exchange programs.
adesso insurance solutions supports the program as a sponsor.
You can find more blog posts about Jugend hackt here.