Because the Jugend hackt-labs in Ulm and Fürstenberg have been so well attended by young people who are enthusiastic about technology, the local long-term offer will be further expanded throughout Germany this year.
The most important innovation in the Jugend hackt program are the Jugend hackt labs, which were launched at two locations in June 2019. In contrast to the Jugend hackt events that have been held only once a year for the past seven years, the labs are a permanent contact point for young people. The first two Labs are located in Ulm and in Fürstenberg an der Havel. These labs are the pioneers of this offer, which is expected to grow steadily in the coming years.
Open coding, tinkering and improving the world
Every Jugend hackt lab hosts about two events per month – usually a workshop on a specific topic and an open evening where young people can continue working on their own projects. In Jugend hackt jargon, this is known as "open coding, tinkering and improving the world," because, of course, the labs also involve thinking about how all this technology affects society. "You can come here with or without an idea and still learn something at the end of the day – and have fun doing it," said a participant in a workshop in Ulm in October. There are many different topics to explore: sometimes, the young people build sensors that measure air quality and feed the data into a map on the Internet. On other days, they program their first computer games that deal with the climate crisis – for example, by playing the role of a supermarket manager selling organic products, or by playing an adventure game on the topic of protecting endangered species.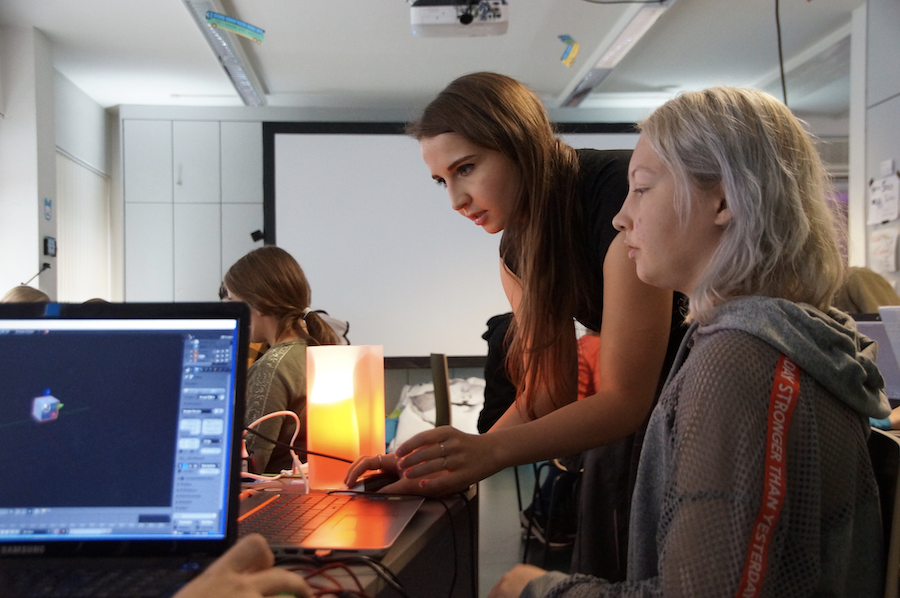 Game designer Leonie Wolf gives a 3D design workshop at the Jugend hackt lab in Ulm (CC-BY 4.0 Jugend hackt, photo: Tomas Novy)


The labs are well attended
The workshop also includes 3D printing and design, data security and sound coding – current IT topics that are not usually covered in computer science lessons. Support is provided by workshop leaders and mentors, who use their expertise to assist the young people. The participants also discover answers to many questions among themselves: "It's more fun to work with people who are on my level," says a 16-year-old, who almost never misses a lab event. "And when new participants come who don't know as much as you do, you talk to them and explain everything to them – I was a beginner myself at some point."
Just like a 15-year-old participant who, even though she was interested, had never dared to go to an event before, because she felt that she didn't know enough yet to take part. She finally dared to come after her teacher encouraged her to go to the Jugend hackt lab, where she could just walk in without having to register. Since then, she has gone to almost every event and enjoys working together with the other participants. "Meeting the others, learning new topics, the overall atmosphere in the labs – I would have missed out on that, if weren't for the labs," she said on a Saturday in Fürstenberg. She was able to use what she learned in the lab about technology and programming, and also about network policy issues, at school.

Expansion of the labs in Germany
Ulm and Fürstenberg are just the beginning: in May, two more labs in Baden-Württemberg and Brandenburg will be started in order to benefit from the experience in the region. By the end of 2020, there will be a total of six labs. The goal is clear: a network of Jugend hackt labs throughout Germany, especially in rural areas.